Skip Navigation
Website Accessibility
Store Hours:
M-F 9:30-5:00
Sat. 9:00-4:00
Closed Sunday
CALENDAR
WHAT'S NEW
QUILTS N GIFTS LLC
IN BLUFFTON, INDIANA
TOUR BUSES WELCOMED
ALL ORDERS SHIPPED WITHIN CONTINENTAL U.S.A.
of $50.00 or more is FREE SHIPPING.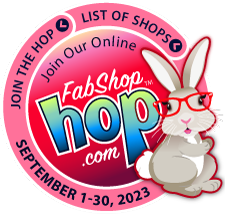 And Fall is making its debut here in Indiana. Nice cool mornings and pleasant weather in the afternoon. Now, the secret is will it last or will we have another heat wave???? I hope it lasts and the September bunny does too because he wants it all together. Wait, what do I mean by all together.
Well, pattern, fabrics and binding for its beautiful project. Ah yes, I mean a kit. And that is probably where you will find him by the quilting kits.
Now, don't forget that we will be adding more and more kits all thru the month so visit us and see what has been added.
Another special going this month... not bunny related but savings related. Check the panel section for a large variety of panels at $3.99 each and like kits we will be adding new ones all thru the month.
So, let's get sewing and having fun, happy quilting everyone.